Divorce applications rise sharply after Christmas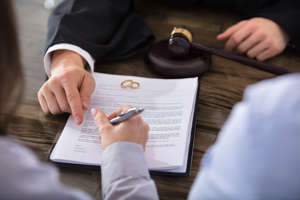 © Getty
Inquiries and applications for divorce spike this month.


While most people are slowly easing themselves into work after the holidays, divorce lawyers know they will need to hit the ground running.
Senior divorce lawyer Jeremy Sutton said couple inquiries and applications for divorce spike this month.
Download the Microsoft News app for your Android or iPhone device and stay up-to date on the news you care about most.
"The unhappiness may sort of drift along during the year, but in some cases people with children might say 'look we're just gonna have one more Christmas with the kids and then in the new year I'm gonna do something about it'.
"Often it's that New Year's resolution."
He said the financial stress of Christmas, holidays and couples spending more time together could propel them to consider splitting up.
"They're spending three or four weeks together over the Christmas period and they never spend time like that together during the year so that can cause tensions as well."
But he said a lot are not prepared for the time and effort a divorce takes.
"I've had several people this month come to me and said 'I want to get it all sorted within a couple of weeks' and of course the eyebrows are raised. It's not going to take a couple of weeks.
"It's three to six months to get all the separation and relationship property matters out of the way and it takes two years of separation before you can get a divorce and legally marry someone else."
Mr Sutton said he always recommended couples see a counsellor before making any final decisions.
Association for Counsellors president Bev Weber said that the aftermath of the `silly season' was hectic for relationship counsellors.
"It becomes extraordinarily busy because people are just crying out for someone to help them. Help them make sense of what is happening at this time."
She said it was a good sign that couples were willing to work on their relationship as the effects from a divorce could be far-reaching.
"There's a huge ripple effect. You don't stay together just for the sake of your family but you do have to consider that this is going to affect you, your kids and the wider whānau."
Ms Weber said if couples were considering a divorce they could look in the phone book for a local counsellor, talk to their doctor or health professional about a referral or ask friends who may have used a counsellor in the past.
Dominic Levent Solicitors
Email:
Enquiries@dominiclevent.com
Url:
https://www.dominiclevent.com