In focus: Should City firms cut ties with fossil fuel giants?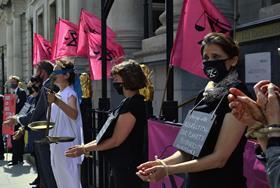 On a rainy day in February 2020, a group of Extinction Rebellion campaigners wearing hazmat suits lay on the pavement in front of Slaughter and May's London office. The soggy scene was staged in protest against the firm's decision to represent fossil fuel companies, namely energy giant Premier Oil.
Next week, the climate group is expected to target the legal sector again, claiming that City firms are 'critical enablers of the carbon economy' and are 'knowingly investing in the destruction of the conditions which make the planet habitable'.
With their drums, loudspeakers and grungy headbands, Extinction Rebellion protesters are the antithesis of corporate London. However, the questions they raise are starting to be discussed in boardrooms across the City. In short, should law firms who want to act responsibly be representing – and profiting from – some of the world's biggest carbon emitters?
Professor Paul Watchman, a former Freshfields partner and advisory board chair for Lawyers for Net Zero, says firms need to be more discerning when it comes to picking clients. 'Law firms can say they expect their clients to have certain values – because clients are saying it to the law firms now.'
'We're not asking them to dump their clients on day one – but maybe don't accept instructions that relate to building a coal fired power station in China,' he adds. 'And a big thing they could do is stop their clients litigating on climate change.'
Watchman is keen to stress, however, that solicitors are in a tricky position. 'Law firms have got a complex relationship with their clients,' he says. 'If you look at a lot of the law firms, it's wrong to accuse them of hypocrisy or greenwashing based only on those issues. I know for example, that firms like Linklaters and Clifford Chance are taking this very seriously and trying to look at ways in which they and their clients can reduce their carbon footprint.
'These people are not insincere. But they may have to start choosing their clients.'
In the City itself, solicitors are less keen to cut ties with lucrative energy giants. Alexander Rhodes, head of Mishcon de Reya's sustainability practice, said that shunning certain types of businesses works well for investment funds but not for legal practices.
'If we're going to tackle the existential problems of climate change and biodiversity loss, businesses which have the largest footprint – which are often the businesses that have the largest influence – need advice as to how to change. If their access to legal advice is just cut off, they're going to be significantly hampered in making that change,' he says.
'Everyone agrees that we need to move away from fossil fuels. But you can't just move away from fossil fuels today. It's a question of how you do it. There is money and there is work in the transformation.'
City practices are under very real pressure to act sustainably, Rhodes adds. 'I think we're moving towards a time where every business is effectively a public business. There is a far greater expectation on businesses to behave responsibly today than there ever has been before.' 
Carbon reporting, for example, is likely to soon become a major consideration for businesses, with the Task Force on Climate-Related Financial Disclosure currently consulting on how disclosure requirements should relate to private companies, such as LLPs.
Regulation is just one area of change. In-house legal teams are playing an important role in changing the way firms operate. 'By the procurement contacts, and by the selection processes for the law panels, they are now imposing certain obligations on their external legal advisers',  says Watchman.
Future trainees are also asserting their priorities. Law Students for Climate Accountability – a group that was founded last year by Yale law students – has ranked 100 law firms from A to F according to their climate performance. (Three out of five magic circle firms were graded 'F'). They have also invited firms to take a 'climate pledge' under which they will 'not take on work to support the fossil fuel industry, now and into the future'.
As climate change becomes more urgent, however, solicitors face a crossroads. According to a study by the London School of Economics, the number of  climate change disputes has more than doubled in the past five years and practitioners are observing a similar change: Allen & Overy partner Suzanne Spears anticipated a 'flood of litigation' at a recent International Bar Association webinar.
Firms, therefore, risk becoming increasingly polarised by the work they take on. Should they continue to work with fossil fuel companies as lawsuits pour in, or should they rethink their client base before things get messy? And how does cutting ties with certain sectors square with the universal right for legal representation?
The answer is unlikely to fit on a placard. One thing is clear, however: as the planet warms up, lawyers will be feeling the heat.
This article is now closed for comment.
Dominic Levent Solicitors
Email:
Enquiries@dominiclevent.com
Url:
https://www.dominiclevent.com