Court backlog 'may not return to pre-pandemic levels for another year' – Raab
It could take another year to bring the court backlog down to pre-pandemic levels, Dominic Raab has predicted in his first live interview since being appointed lord chancellor and justice secretary.
Raab was asked at a Conservative fringe event hosted by The Spectator about the impact of delays on victims. Statistics published last month show a record 60,692 outstanding cases in the Crown court at the end of June.
The justice secretary said it was impossible to continue with jury trials at the start of the pandemic due to social distancing rules. However, the backlog in February 2020 was 19% lower than what it was under Labour in 2009.
'No one ever talks about magistrates' courts,' he added. 'Over the last year there has been a substantial decrease in the backlog. So we're getting to grips with the magistrates' courts.'
Raab listed measures that the government has taken to reduce the backlog, such as super courts in Manchester and Loughborough, Nightingale courts, removing the cap on sitting days, and using technology to 'drive cases forward'.
He said: 'I cannot tell you I will have this dealt with in a month. It will take some time. It will take a good six months to a year to get back to the pre-pandemic stage, my guestimate at this stage.'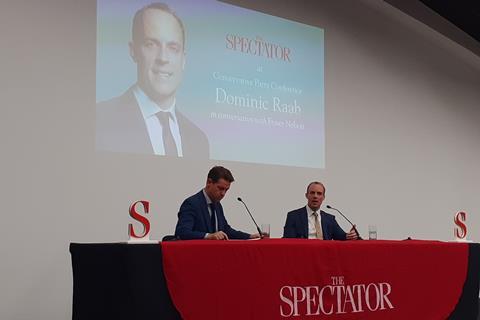 Repeating that numbers in the magistrates' court were coming down and Crown court numbers were flattening, Raab said: 'We have got a plan to get the backlog down. Labour do not have a plan. I have spoken to all of the senior judiciary over the last week about this issue and how are going to work together.'
One audience member asked Raab about the lack of 'basic data', such as how many judges have been sitting during Covid and which out of Nightingale court and remote hearings was most effective.
Raab replied: 'The difficulty with all of these things is collating the data, and getting a breakdown of different data sets takes time and resource. Do I want to spent resources on that or getting the backlog down?'
However, Raab said that he has asked for 'granular data', by locality, on the performance of everyone in the criminal justice system and will soon produce justice scorecards. 'There's a lot of nervousness about this but I think it's important,' he said.
Asked about delays in the family justice system, Raab said too many civil law family cases were going to court and alternative dispute resolution should be used more.
On public family law, he said local authorities should be supported. 'When I was looking at Human Rights Act case law, I do think local authorities feel like they are going to be hauled over the coals if they intervene too early or too late. Somehow it has created a chilling effect.' A 'litigation culture' was reducing councils' abilities to do their jobs on the frontline, he added.
Dominic Levent Solicitors
Email:
Enquiries@dominiclevent.com
Url:
https://www.dominiclevent.com